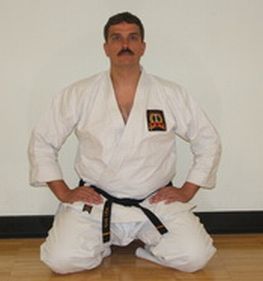 Have an interest in the martial arts? Want to have your own instructor you can carry around with you wherever you go? Want training on demand for a fraction of what local schools / dojos are charging. That is where www.KarateTrainingAtHome.com comes in.
I have actively trained in the martial arts since the early 80's. During that time, I have had the pleasure to teach and train in many countries and with many organizations. One common thread I see is that true devotees of the martial arts are always hungry for more knowledge. My students have asked me for years to video things so they can play it back at their convenience to work on techniques, drills, or concepts. This, combined with some of the limitations of the standard martial arts training experience such as location, schedule, cost, etc. led me to create www.KarateTrainingAtHome.com.
On our website, users can sign up for monthly access to a variety of training videos which will guide them through learning a complete martial art – Goju Ryu Karate. A user can train at any hour of the day, for as long as they want, as hard as they want, wherever they are. In addition, repeating things that aren't understood or where more muscle memory is needed is the push of a button away. This also allows for families to train together if they desire – again, something not available most anywhere else. Using our custom training log, a student can track progress over time and have access to an instructor via email or even Google Hangouts to help where needed. In addition, students periodically have the option to train in person with the senior instructor at the home dojo (www.MartialArtsInstitute.us) or regional training classes as circumstances allow.
Kevin Webb, Renshi
Rokudan (6th Degree Black Belt), Okinawan Goju Ryu Karate

Comments
comments
Tags: Exercise, Fitness, Goju Ryu, Karate, Martial Arts, Okinawan, Safety, Self Defense, Workout