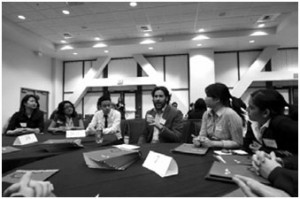 Your company logo is everywhere, from the sign outside your office to the business cards you hand out and the corner of every page on your website. This one small piece of graphic design is the heart of your brand identity. Having a strong logo that captures what your business is about gives you credibility and can help you win customers or clients, whereas a weak logo can turn people away. When you are creating your company logo, ensure that it has several key features common to effective logos.
1. Communicates Company Essence: Your logo isn't a piece of artwork that's supposed to make people ponder their place in the world. Rather, it should quickly and effectively communicate the essential characteristics of your company. It needs to be bold and easy to see and understand, while still expressing something about your company beyond just the name. You don't have to have a detailed picture, but just simple graphic elements that capture what you're about.
2. Gives You Credibility: Anyone these days can print a business card, but not just anyone can design a professional logo. The feel of your logo will go a long way in giving you credibility with people who are being introduced to your company for the first time. Your logo should project confidence so people feel like you're an expert in your field. At the same time, it should also present you as approachable and trustworthy.
3. Simple to See at a Glance: Your logo is often viewed at a very small size, so it needs to be easy to read and understand at just a glance. If you're using it in advertising, you may not even capture the reader's eyes for a full second, so you want them to come away with your company name and purpose right away. Don't get lost in detailed graphic elements or seemingly clever fonts or ways of presenting your business name. Instead, keep it simple and clear.
4. Adaptable to Many Situations: This feature is also sometimes described as usability, or ease of reproduction. Your logo isn't just designed for a full color business card or for the header of a website, but rather, it needs to be a consistent mark on all of your communication. Therefore, it should be just as effective at small and large sizes so you can use it on billboards or signage. In addition, even if it contains color, it should still be able to work in black and white advertisements or when superimposed on a background that is not white.
5. Bold and Memorable: Even if your logo has all of the above features, it's not going to make you stand out if it's not bold and memorable. You want it to be different from other logos so people will see it and immediately think of your company. If someone's searching for a business like yours in a crowded industry, you want your logo to be the one that makes people take notice. Therefore, think big with graphic elements, shapes and color combinations that capture attention in a good way. Leave the WordArt in the 90s where it belongs, but don't be afraid of creativity.
Creating a business logo isn't something you'll be able to do in just one sitting. It's a whole process of brainstorming concepts, sketching out how they might look on paper, tweaking the design and finalizing the presentation. You may be able to carry this out on your own if you have the design skills, or you may want to bring on someone to help give your company the professional image you deserve.

Comments
comments
Tags: Branding, Business, company logo