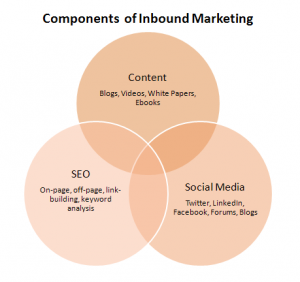 SEO marketing is constantly evolving, so sticking with old strategies will get a marketer nowhere fast. Dealing with new strategies is a gamble, however. How do you know which ones will work and which ones won't? By taking a closer look at SEO and inbound marketing, you can pick and choose which marketing tactics you should be using.
SEO: What used to work
SEO is constantly changing. Just because something was effective a year ago doesn't mean that it will work now. Those who don't adapt with the changes won't get the results that they want; in fact, they may get the exact opposite of what they want. The algorithms that Google uses are constantly being updated. When updates happen, some websites end up taking a major hit in page rankings.
People used to get away with having websites with several pages of content that didn't make any sense. In the world of today's SEO, quality is more important than quantity. Footer links were also used to increase page rankings, but they are not effective now. Cloaking keywords by using white texts on a white background is yet another tactic that used to work. And who can believe that people used to overuse anchor text? Nowadays, it's crucial that people carefully manage client link distribution.
The SEO world after Panda
Google's Panda update was primarily about weeding out spam and improving the quality of search results. People who used questionable SEO tactics saw their websites drop out of Google's rankings. Panda caused quite a stir in the world of SEO. Some so-called SEO "experts" were proven to be fakes who really didn't know as much about SEO as they claimed.
The post-Panda world is one where video helps. The use of images is also encouraged. Custom images have more value than stock images. Off-site optimization is now more important than ever. Keeping a blog active and linking it to social media is a tactic that many now practice. Unique, quality content is vital in the post-Panda world.
A look at inbound marketing
With the rise of the Internet, the wild world of marketing has changed. Outbound marketing has been devalued. Although they are still widely used, television ads and billboards don't pack the same impact that they used to just a few years ago. In fact, 86 percent of those who watch television skip commercials. Since 44 percent of direct mail is never opened, it doesn't make much sense to waste time on that marketing tactic either.
Enter inbound marketing. It's an interactive way to market. The consumer is usually educated and/or entertained by the marketer. Using e-books, blogs, white papers, and infographics is a type of inbound marketing that is called content marketing. Social media participation is another inbound marketing technique. With a large social media presence, it's easier for a company to offer online coupons and deals. As their followers tell others about the deals, the participating company gets free advertising and more business.
The future of marketing
Using a combination of on- and off-site SEO  is the best tactic that a marketing professional can employ. How does off-site SEO help? If a website or blog appears in more tweets, social media sites, and so on, it will get more traffic. On-site SEO helps by making sure that a website or blog has a high ranking in organic searches. Using a combination of SEO tactics helps to increase brand awareness. It is also relatively cheap and can help increase revenue. When you add inbound marketing to the mix, you have a formidable marketing strategy.
Get Google's attention (and keep it!)
Your website needs to be well-designed and have fresh content. It's also important to keep an active blog. Content should not be overstuffed with keywords and should focus on quality over quantity.
Supporting mobile devices is important nowadays. If someone can easily check out your website on their smartphone or tablet, it will get more traffic. Some of the people who check out your website or blog may link back to it in tweets and other social media circles.
Making use of WordPress websites is something that successful marketers are doing. These sites are search engine magnets.
Google doesn't like slow websites. If your website takes too long to load, it will get dinged in the search rankings.
Google + Business Pages can help your business get to the front of a search page.
Out with the old, in with the new. In order to stay ahead of the game, marketers must disregard old tactics that don't work and replace them with news ones that do. One quality video is worth much more than 1,000 pages of low-quality content that is overstuffed with keywords and footer links. Marketers who use the right combination of Internet marketing techniques will have websites and blogs that will successfully make it through any search engine algorithm update.

Comments
comments
Tags: Deepak Gupta, Deepak Gupta marketing, Deepak Gupta San Francisco, Deepak Gupta social media, Deepak Gupta Thought Leader, Lead Generation Expert, marketing by deepak consulting group