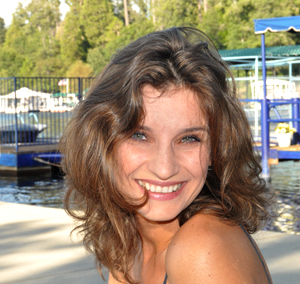 Like for many, watching the Secret was a starting point for me in consciously applying the power of intentional thinking and allowing, to creating my life by design. Applying the Law of Attraction to create extraordinary relationships seemed to be the hardest, because it involved not only my aims and desires, but also those of another person. Despite of doubts, concerns and disappointments of the past, I decided to apply the same principles that worked so well in other instances to this majorly important area of my life. I wrote down on paper the qualities I wanted my ideal partner to have, I had a vision board reflecting happy couples and their experiences together, I even had a small card in my wallet that listed the most important characteristics of my ideal partner. I was visualizing him next to me every time I saw a beautiful sunset, driving my car, or laying alone in my bed, I was dreaming of him hugging and kissing me.
I have to say, I totally underestimated the power of the Universe and the Law of Attraction. It took years, but my efforts paid off better than I had ever expected. Our story is like a fairy tale. We met in the most magical place in Arizona called Eden. It was love from the first sight, and we got married in two months. There were many miracles that brought us together across countries and states, many circumstances and events aligned in perfect synchronicity to make us possible, and the ease and bliss of living together is an everyday miracle. Yet, I know that none of it was an accident or a matter of chance. Everything unfolded and continues to unfold just the way it is supposed to, but not because of destiny or fate, rather, our mutual desires, expectations and self-allowing (by "self-allowing" I mean letting your true nature guide your life, being fully who you really are) led us to happiness beyond our wildest dreams.
It is our fourth year together, and our marriage is truly extraordinary. Considering how many people struggle with their relationships, and how little information that is practical, quality and based on real life experience is available on the subject, I felt compelled to share our knowledge, wisdom and techniques with others through my upcoming book All In: How to Let the Best Thing Ever Happen to You and a blog: http://www.elatedrelationships.com
Happily Ever After is not only possible, it constantly gets better. Contrary to the conventional belief, a real relationship grants the greatest freedom of being your true self, where partners help each other open up, unleash their essences and experience more joy than they ever thought was possible.

Comments
comments
Tags: Dating, extraordinary, happily ever after, ideal partner, Law of Attraction, love, Marriage, miracle, Relationships, Universe, vision board, wisdom