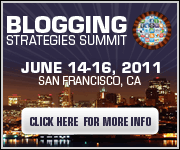 Come see Guy Kawasaki and Charlene Li at
The Blogging Strategies Summit in San Francisco on June 14 – 16th!
Global Strategic Management Institute has gathered the best and brightest speakers in the blogosphere to present emerging strategies, tactics and case studies in the successful use of blogs to increase organic search engine optimization, community outreach, crisis control and much more. Unlike traditional conferences, the Social Media Blogging Summit – 2011 Summit reveals how leading brands use social media to consolidate and expand their market share, as well as, gain valuable market data. Sign up to hear Social Media experts like Guy Kawasaki and Charlene Li speak, plus receive their books, "Enchantment" and "Open Leadership" for free! Click the banner above to see the event page and use code "BLOG25" when registering to receive 25% off ticket price!

Comments
comments