I run a content marketing and online publicity startup, called SixEstate Communications. We have a full-time team of three. I'm located in NYC; my partner, Steve, is in Virginia; and our head editor and publicist, Tatyana, is in New Orleans. We also work with a network of freelance journalists and editors scattered across the country.
We use Skype every single day. I like to think of it as our virtual conference room, and it definitely helps us stay productive and in constant communication, even though we're all located hundreds or thousands of miles apart.
Here are three ways we use Skype:
1) Communication & Collaboration: We all know that email is not always the best way to communicate if you need a response right away. When you work in an office, and you need immediate approval of a document, or want to run a quick idea by someone, it's often most efficient to walk over to your colleague's desk and chat about it for five minutes. Skype allows us to chat — voice or text — right when an item needs to be discussed. We're constantly sharing ideas, and asking for advice or suggestions on Skype. If I'm sending out a pitch, for example, I often Skype it over to Steve to get his take on it before I click the send button. We collaborate on proposals, presentations, emails, and even guest blog posts, like this one, via Skype.
2) Training Sessions: Whenever we add a new journalist or editor into our network, we have a training session with him or her on Skype. We have a very specific way we create content for clients, called Newsblogging, to which we need to introduce all of our writers and editors. In addition to a formal discussion, it's extremely helpful to be able to instant-message notes back and forth, send meaningful links and even documents during the course of these training session.
3) Conference Calls & Sales Presentations: We have conference calls with clients and prospective clients on a regular basis. We wouldn't have someone specially download Skype for a call, but if he or she has it already, we like to host these meetings on Skype for many of the same reasons as described above. While we're talking, we can share links to case studies and samples of our work. Much of our work has to do with improving SEO, so it's often quite helpful to be able to pass along a link to a search results page, or a link to a page that needs to be adjusted. Even if we've emailed all this information already in proposals or tracking reports, it's always helpful to be able to share what needs to be shared right at that moment, rather than have someone dig through old emails looking for it.
Obviously, phone calls and emails will always play a crucial role in how businesses communicate. But Skype allows all these activities I mentioned to be completely interactive and visual.
****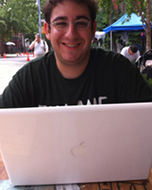 David Reich is co-founder & CEO of SixEstate Communications, a content marketing startup with an effective, ethical and team approach to professional blogging, called Newsblogging. SixEstate works with professional journalists and editors to produce top blogs for clients around their most important topics and issues — from childhood obesity to Denver personal injury law and everything in between. Follow David on Twitter: @djreich.

Comments
comments
Tags: content marketing, david reich, newsblogging, SEO, sixestate communications, Skype