harpermac11@gmail.com on February 7th, 2013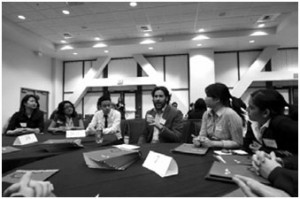 Your company logo is everywhere, from the sign outside your office to the business cards you hand out and the corner of every page on your website. This one small piece of graphic design is the heart of your brand identity. Having a strong logo that captures what your business is about gives you credibility and can help you win customers or clients, whereas a weak logo can turn people away. When you are creating your company logo, ensure that it has several key features common to effective logos.
1. Communicates Company Essence: Your logo isn't a piece of artwork that's supposed to make people ponder their place in the world. Rather, it should quickly and effectively communicate the essential characteristics of your company. It needs to be bold and easy to see and understand, while still expressing something about your company beyond just the name. You don't have to have a detailed picture, but just simple graphic elements that capture what you're about.
2. Gives You Credibility: Anyone these days can print a business card, but not just anyone can design a professional logo. The feel of your logo will go a long way in giving you credibility with people who are being introduced to your company for the first time. Your logo should project confidence so people feel like you're an expert in your field. At the same time, it should also present you as approachable and trustworthy.
3. Simple to See at a Glance: Your logo is often viewed at a very small size, so it needs to be easy to read and understand at just a glance. If you're using it in advertising, you may not even capture the reader's eyes for a full second, so you want them to come away with your company name and purpose right away. Don't get lost in detailed graphic elements or seemingly clever fonts or ways of presenting your business name. Instead, keep it simple and clear.
4. Adaptable to Many Situations: This feature is also sometimes described as usability, or ease of reproduction. Your logo isn't just designed for a full color business card or for the header of a website, but rather, it needs to be a consistent mark on all of your communication. Therefore, it should be just as effective at small and large sizes so you can use it on billboards or signage. In addition, even if it contains color, it should still be able to work in black and white advertisements or when superimposed on a background that is not white.
5. Bold and Memorable: Even if your logo has all of the above features, it's not going to make you stand out if it's not bold and memorable. You want it to be different from other logos so people will see it and immediately think of your company. If someone's searching for a business like yours in a crowded industry, you want your logo to be the one that makes people take notice. Therefore, think big with graphic elements, shapes and color combinations that capture attention in a good way. Leave the WordArt in the 90s where it belongs, but don't be afraid of creativity.
Creating a business logo isn't something you'll be able to do in just one sitting. It's a whole process of brainstorming concepts, sketching out how they might look on paper, tweaking the design and finalizing the presentation. You may be able to carry this out on your own if you have the design skills, or you may want to bring on someone to help give your company the professional image you deserve.
Tags: Branding, Business, company logo
npilapil@branders.com on January 30th, 2013
Dating and marketing. These two words are probably not the ones that you would usually pair with each other. Yet, as unlikely as it may seem, getting or meeting a date in trade shows and other marketing events isn't all that unthinkable. In fact, trade shows and product launching days are some of the best venues to meet and greet different kinds of people. You can very well meet your future boyfriend or girlfriend, or even just your date fir the weekend in one of these places. How can you make that happen?
Tips In Getting Dates In Trade Shows And Marketing Events
What can you do to get a date in the next marketing event you go to? Marketing events are highly social activities so there's really a good chance that you will meet a lot of people there. You just need to be open to the possibility. Here are some pointers on how you can ensure that it does happen:
Attend marketing events that spark your interest.
In order for you to get a date that has the same interests as yours, you need to attend marketing events that feature subjects which you find interesting and exciting. For example, go to car shows if you are a car enthusiast yourself or head over to a book exhibit if you're a bookworm. This way, you have a great chance of meeting people that share your hobbies or passions in life.
Adopt a pleasant and friendly disposition.
If you want to attract or get the attention of friendly and interesting people, you need to be friendly and interesting yourself. Don't think too much about trying to get a date first. Focus your efforts in making friends genuinely first and then everything else will follow after.
Participate in the different activities lined up by the event sponsors or organizers.
One good way to ensure that you meet new people is to get yourself involved in the usual activities held during these events. Pay attention to the program and find ways on how you can actively participate in their games or exercises.
Ask a potential date out politely and sincerely.
Once you get friendly and acquainted with a potential date, ask that person out politely and sincerely. Don't be too forward or aggressive. Respect others so they will respect you too.
Treat your date properly and respectfully.
Of course, it goes without saying that you need to treat your date with utmost respect when you finally take that person out. Try to talk a bit about your common interests, starting with a brief review about the marketing event that you just attended. From there, work your way gradually until you are able to talk about other things already and be on your way to have the best date you ever had.
Who would have thought that marketing events would be an ideal venue for getting a date? Anything is possible as long as you put your mind to it. Do you think you can do that in the next trade show you attend?
Niña Angeli Pilapil, a bookworm by heart, is an expert in promotional products used for both marketing and personal reasons. She is employed by www.branders.com as their official blogger to write about topics like shopping bags with logo. This dark chocolate fanatic enjoys her spare time reading books, watching movies, and honing her blogging craft. If you want to connect with her, follow her at http://twitter.com/ninsbonita.